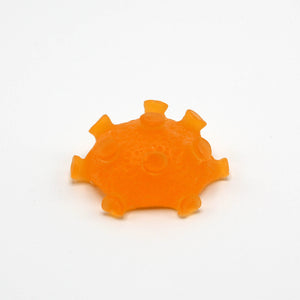 Coronasoap with a tangerine aroma
Kórónusápan (The Corona soap) is an Icelandic handmade soap created by Ragga and Magga Weisshappel under the label of their visual studio Skýjaverksmiðjan ehf. (The cloud factory inc).
The Corona soap is meant to be a reminder of historic times when viruses changed the world, as well as keeping the hands clean.
Long lasting

Tangerine aroma

70 g

Made in Iceland

Ingredients: aqua, essential oil, glycerin, sodium sterate, sorbitol, propylene glycol