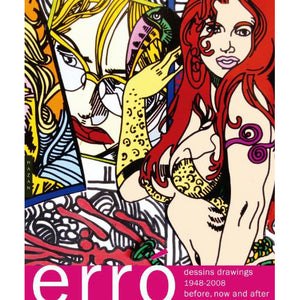 Erro dessins: 1948-2008 before, now and after
FR:
Cet ouvrage manquait : il est le premier à envisager systématiquement la production graphique d'Erro depuis ses débuts. Une telle approche, paradoxalement inédite à ce jour, aurait dû être réalisée depuis longtemps lorsqu'on connaît la dimension graphique omniprésente dans son oeuvre. Le goût d'Erró pour le dessin se manifeste dès l'enfance, sous l'influence du peintre islandais Kjarval qui installe son atelier d'été aux abords de la ferme familiale à Kirkjubæjarklaustur, dans le sud de l'Islande, à partir de 1942. Il se développe d'abord à l'École des Beaux-arts de Reykjavik, où, entre 1949 et 1951, il prépare un diplôme de professeur de dessin puis à l'Académie nationale des Beaux-arts d'Oslo, à l'Académie des Beaux-arts de Florence et à l'Ecole de mosaïque de Ravenne. Il s'affirme sous diverses formes à chacune des étapes de la carrière de l'artiste. A vocation rétrospective, l'ouvrage présente plus de 200 dessins sélectionnés par Erró sur quarante ans de pratique artistique : dessins d'observation ou d'imagination, dessins préparatoires à des fresques, mosaïques et peintures ou bien dessins indépendants, associés parfois à des éléments photographiques découpés dans la presse, puis de 1964 à aujourd'hui, dessins de report de collages préliminaires, étapes initiales dans la réalisation de peintures, aquarelles ou sérigraphies.
Couverture rigide
Nombre de pages: 142 
Illustré
Langue: Français
Date de parution: 2010
Éditeur: 

HAZAN

Dimensions: 24 cm x 30 cm
Poids: 1.04 kg
EN:
This book was missing: it is the first to systematically consider the graphic production of Erro since its inception. Such an approach, paradoxically unprecedented to date, should have been carried out a long time ago when we know the omnipresent graphic dimension in his work. Erró's taste for drawing was evident from childhood, under the influence of the Icelandic painter Kjarval who set up his summer studio near the family farm in Kirkjubæjarklaustur, in the south of Iceland, from 1942. He first developed at the Reykjavik School of Fine Arts, where, between 1949 and 1951, he graduated as a drawing teacher, then at the National Academy of Fine Arts in Oslo, at the Florence Academy of Fine Arts and Ravenna School of Mosaic. It asserts itself in various forms at each stage of the artist's career. With a retrospective vocation, the work presents more than 200 drawings selected by Erró over forty years of artistic practice: drawings of observation or imagination, preparatory drawings for frescoes, mosaics and paintings or even independent drawings, sometimes associated with elements photographs cut in the press, then from 1964 to today, transfer drawings of preliminary collages, initial stages in the production of paintings, watercolors or serigraphs.
Hardcover
142 pages
Illustrated
Language: French
Published: 2010
Publisher: 

HAZAN

Size: 24 cm x 30 cm
Weight: 1.04 kg