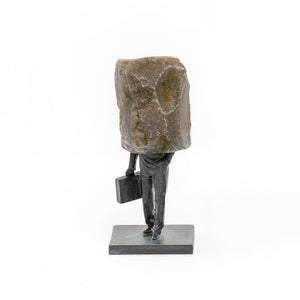 Monument to the Unknown Bureaucrat
Monument to the Unknown Bureaucrat by the artist Magnús Tómasson is one of the best known outdoor works in Reykjavík.
The artwork was acquired by the City of Reykjavík in 1993. The idea behind the work stems from the artist's fascination with memorials to unknown soldiers, found in many cities throughout the militarized world. "Iceland has no army, but plenty of bureaucrats," says the artist on the work's original conception, "and I felt that the foot soldiers of government administration, those nameless, faceless agents who nevertheless exert great influence on the destinies of regular people, deserved a monument, too."
Artist: Magnús Tómasson
Material: Resin