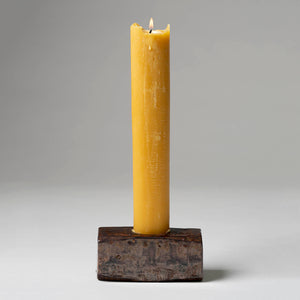 Hammer
Hammer is a candlestick inspired by The Blacksmith that sculptor Ásmundur Sveinsson made in Copenhagen in 1936. Hammer gives the user the opportunity to adapt to the work and put himself in the position of the statue that captures the moment where the blacksmith leans forward on the post.
Designer: Hanna Dís Whitehead
Candlestick size: ca. 12,5 x 5 x 5 cm
Candle size: ca. 37 x 4,5 x 3 cm
Combined weight: ca. 1152 g
Material: Clay with glaze
Candle: Beeswax from Sólheimar candle making
Never light a candle without supervision
Do not allow the candle to burn completely into the candlestick
Clean the candlestick with a damp cloth
Ásmundur Sveinsson (1893-1982) was one of the pioneers of Icelandic sculpture. His artworks manifest the Icelandic narrative tradition, society and nature. Many of his works are accessible in public spaces in Reykjavík. It was the artist's opinion that art belonged to the masses.