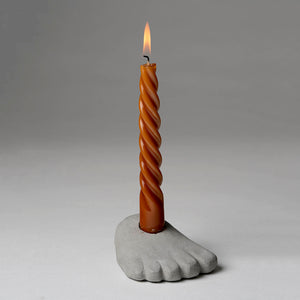 Toes
The Water Carrier, the work of sculptor Ásmundur Sveinsson, from 1936–37, shows a barefoot woman carrying two buckets of water. Her legs are strong and reflect stability and grounding. Sturdy body parts - hands, fingers, feet and toes - characterize many of Ásmundur's works and are reminiscent of the power of the workers. Concrete legs that step on the table carry candles to illuminate sweet moments. The feet draw inspiration from Ásmundur's workers.
Designer: Brynhildur Pálsdóttir
Size: ca. 11 x 5 x 10 cm
Weight: ca. 324 g
Material: Concrete
Never light a candle without supervision
Do not allow the candle to burn completely into the candlestick
Clean the candlestick with a damp cloth
Ásmundur Sveinsson (1893-1982) was one of the pioneers of Icelandic sculpture. His artworks manifest the Icelandic narrative tradition, society and nature. Many of his works are accessible in public spaces in Reykjavík. It was the artist's opinion that art belonged to the masses.